[ad_1]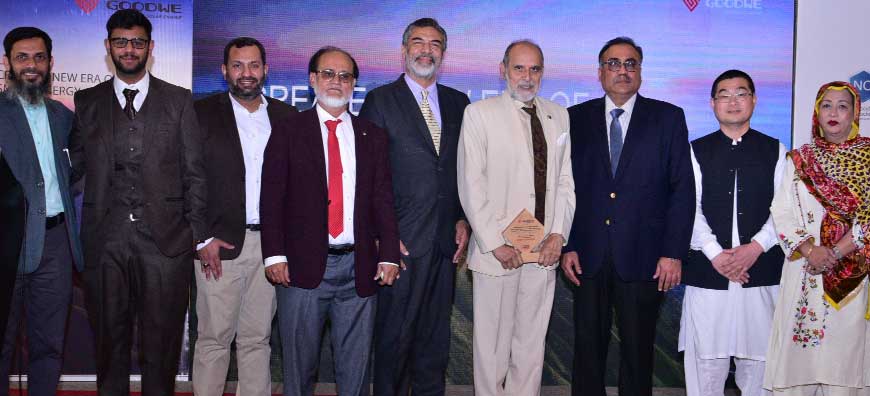 KARACHI: The government should treat wind and solar power as the main sources of power generation as hydrocarbons are actually the alternative means of power production in the country, says a Press release.
This was stated by Prof Dr Nasim Akhtar Khan, former vice-chancellor of Hamdard University, while speaking at a seminar as its keynote speaker on solar energy here at a hotel organised by Goodwe Pakistan in partnership with Energy Update.
Dr Nasim Akhtar, who is a pioneering figure in introducing the concept of clean electricity in Pakistan, said on the occasion that a pressure group comprising of the concerned quarters in the society should be formed to lobby for maximum utilisation of renewable resources of electricity generation.
He lamented the situation that highly non-conducive tariff available for wind and solar power projects had led to the sharp decline in the usage of renewable resources of power generation in the country.
"The main issue is that nobody takes ownership of the solar and wind energy projects in the country whereas government fully owns the power plants that generate electricity through conventional means," he said.
Dr Akhtar, whose efforts led to the identification of Pakistan's first wind corridor from Jhimpir to Gharo in Sindh some 21 years back, said the conducive tariff should be available to the clean electricity projects being established in the country.
He said the most conducive environment and policies would enhance the exploitation of wind and solar energy to the level of hydrocarbon resources that are mostly upon for meeting electricity demand in the country.
Dr Akhtar, who is now a senior official at a leading consultant company, said that Pakistan should start indigenous production of solar cells, wind turbines, and inverters to increase the usage of clean resources of power generation.
He said that many industries in Pakistan were willing to switch to alternative resources to energize their industrial units as power utilities and distribution companies were no more a reliable and affordable option to get the power supply for industrial consumption.
Naeem Qureshi of Energy Update said that their platform was available to organise more such seminars to spread mass awareness about the benefits of using the clean resources of electricity in the country.
He said that both wind and solar power had emerged as reliable means to energize off-grid rural areas and residential and industrial sectors in the cities due to constant increase in electricity rates in the country.
Syed Salman Mohiuddin, Goodwe Pakistan Country Manager, said the Goodwe with installation of 25 GWs of solar power projects in over 100 countries had the fullest resolve to help out the government's efforts to increase the share of clean electricity in the national energy mix.
He said that Goodwe having maximum focus on research and development activities could provide most smart, reliable, and cost-effective solutions to increase utilisation of solar energy for power generation in Pakistan.
[ad_2]

Source link