[ad_1]

Western Australia's Police Commissioner wants new legislation to give officers greater powers to stop and search vehicles at the state's border.
Key points:
Drug trafficking into WA has fallen due to COVID-19 border controls
Chris Dawson says police need more permanent powers to help seize drugs 
He will seek support for the legislation from the new WA government
It comes after Premier Mark McGowan yesterday walked back suggestions that Australians could require an official Government permit to enter WA for years to come.
Commissioner Chris Dawson said he would like to see police retain greater powers at the state's border checkpoints, because one of the outcomes of the COVID-19 pandemic was that crime had halved.
"With the very vigorous border control, it's actually stopped a lot of drug trafficking," he said.
"[Stopping] over half of the drugs that had been coming into WA, particularly meth, has resulted in 10,000 less burglaries in the past [few] months. That is half the number of burglaries that normally take place."
Mr Dawson said there had a been a "direct correlation between illicit drugs and the offending that takes place in our community".
He said he would like police to have greater powers to "end the drug trafficking of criminal gangs".
Mr Dawson said in the past six months WA Police had seized nine trucks, nearly $50 million in cash and "a whole stack of meth".
"I think the pattern we should be into is actually hardening the borders for drug trafficking, not for everyone."
No plan to stop 'every vehicle'
Despite walking back comments on the G2G pass system, Mr McGowan maintained his position that an increased police presence at the Eucla and Kununurra checkpoints may help prevent drug importation.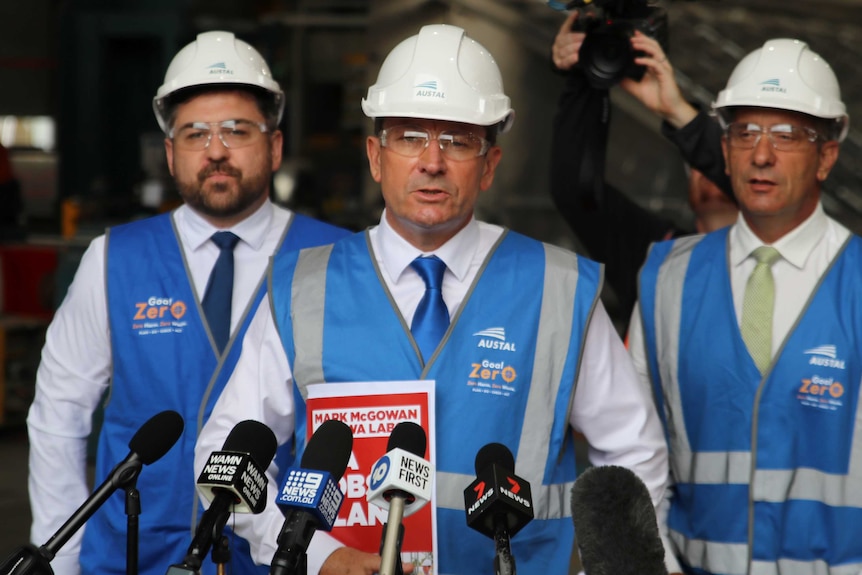 Mr Dawson said he would deliver an "Organised Crime Package" of proposed legislation changes "within weeks" of a new government coming to power after the March election.
He said the package would outline dealing with money laundering, technical encrypted devices and organised crime gangs, including banning club colours being worn in public.
He said the proposed changes to give police more power to stop and search vehicles at state borders would not see "every vehicle" stopped and searched "all the time".
"We want to target the organised crime gangs," he said.
Mr Dawson said current laws meant police could only stop and search when they had suspicion to do so and at "three locations, for a limited period of time".
"The Biodiversity Conversation Act, that provides really good powers for inspectors to seize fruit, to inspect the honey, fruit fly," he said.
"Well, the police should have it for a greater pestilence for meth."
Mr Dawson said he acknowledged the changes would give police more power, but reassured the public "checks and balances" would be in place.
"People will listen to this and go, 'oh here we go, the Police Commissioner is after greater powers', and I am saying, 'absolutely I am'."
Dawson to lobby new government
The Police Commissioner said he would seek support for the legislation from whoever forms government on March 13.
"When the new government gets elected I will be putting a legislative reform package through the minister for police, the attorney-general, and ultimately I expect it should get supported through a legislation package to go through the parliament," he told Perth radio station 6PR.
Mr Dawson said the "key feature" of the legislative change would mean police would not have to "jump through as many legal hoops".
"We need much more practical powers … give my officers the power to stop the vehicles that we want to stop without jumping in front of a legal minefield," he said.
Under the current WA Criminal Investigation Act 2006 police can stop and search vehicles without a warrant if they have "reasonable suspicion" that the vehicle is carrying a person or thing, or is itself, relevant to an offence, or an offence has been or is about to be committed in a vehicle.
Mr Dawson said Mr McGowan had never asked him to consider extending the G2G pass system once the pandemic was over.
McGowan says position 'completely clear'
Speaking later, Mr McGowan defended his push to increase police powers at WA's border beyond the existing state of emergency, in a bid to reduce drugs entering the state.
He repeated his clarification that the G2G process would not be extended beyond the pandemic, saying there had been a "lot of misrepresentation" of what he said yesterday.
He said he made the comments because he did not want to "rule things in or out too quickly".
"Because you never know when things might change. I clarified the position yesterday, I think I have made it completely clear," he said.
The Premier again highlighted the positive impact of the state border controls on slowing the amount of methamphetamine coming into the state and expressed his support for Mr Dawson's proposal.
"I think a 25 per cent reduction in meth usage is a good thing, that's my view. I note the Liberal Party is criticising me for that," he said.
"What we're talking about here is on the border, where we currently have a checkpoint to check for bananas, we should be able to check for meth."
Mr McGowan also said the legislative reform being proposed by the Police Commissioner could not be compared to proposed stop-and-search laws he opposed in 2009.
"The stop-and -search laws were basically [that] anyone walking down the street the police could stop and search you," he said.
"To compare having a police presence on the border to stop meth importation into Western Australia with that, is a totally false equivalence."
'What exactly is Labor up to?': Kirkup
WA Liberal leader Zak Kirkup said he would meet Mr Dawson on Thursday to discuss exactly what the proposed changes entailed.
Mr Kirkup said he had "not once heard" the McGowan Government or Mr Dawson call for the law changes before, and he was sceptical of the timing 10 days out from the election.
"I'd like to know exactly what Labor's plans are for the future of travel within Western Australia," he said.
"Does the Labor Party have a plan to … treat people who come to our state as drug dealers?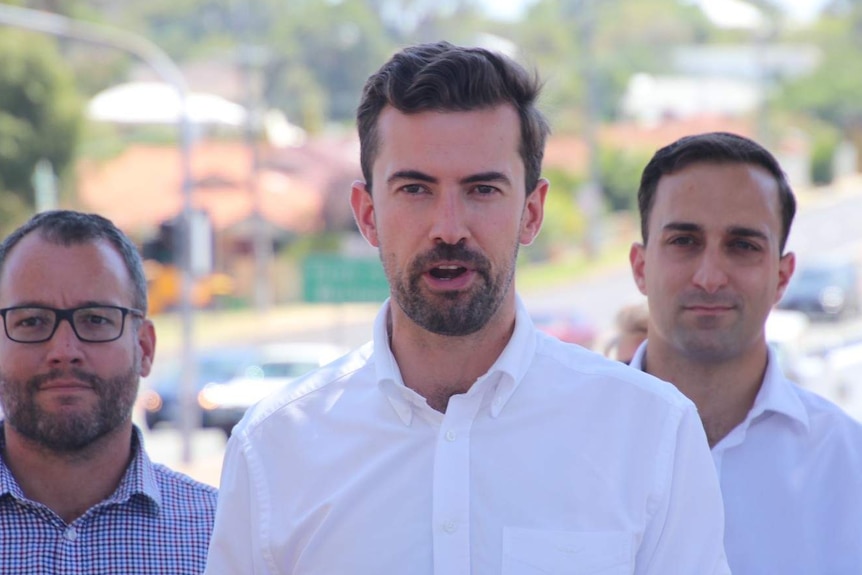 "What exactly is Labor up to? I am quite surprised that it followed a press conference of the Premier, delivered just yesterday."
Mr Kirkup accused the Premier of "rewinding" yesterday's comments because of what he labelled a "backlash".
"I don't trust that Labor doesn't have more of these plans," Mr Kirkup said.
"This is just the beginning. That was just a taste of what we could expect if Labor … gets a super majority, absolute power in Western Australia.
"We've finally realised the Premier, is not immune from rolling out secret plans that could actually have a very significant impact on the way that we travel throughout our country."
Meanwhile, Mr McGowan said a re-elected Labor government would continue to take a zero-tolerance approach to COVID-19 by pursuing an elimination strategy, even after the state's most vulnerable cohorts were vaccinated.
He said he did not know how many people would get the non-mandatory COVID-19 vaccine.
He said border controls would therefore continue to be an important strategy.
"I don't know how well the vaccine will work. But I encourage everyone to take the vaccine, when your turn comes … but we will keep borders in our arsenal as potential measures to stop the importation of COVID into WA."
[ad_2]

Source link