[ad_1]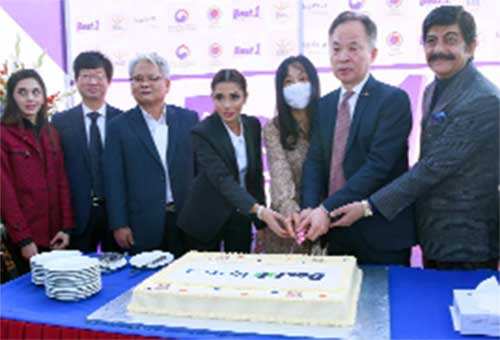 KARACHI: Korea Trade-Investment Promotion Agency (KOTRA) organized the Opening Ceremony of "2nd Pop-up Store in collaboration with the Best 1 that showcases premium Korean consumer goods. The Chief Guest of the event was Kim Haksung, Consul General of the Republic of Korea, says a Press release.
Expressing his views on the auspicious occasion, Kim Haksung, Consul General of the Republic of Korea at Karachi, said that "Since the establishment of diplomatic relations with Pakistan in November 1983, Korea has promoted exchanges and cooperation in various fields including politics, economy, social culture, development cooperation and human exchanges and I have no doubt that together we will have a bright future ahead. In addition, our office will continue to strive to promote friendly cooperation and mutual exchanges between Korea and Pakistan."
Appreciating the continued support and cooperation, Haksung said we would like to assure that our office will remain a vital link in strengthening our cultural and economic ties, as well as advancing mutual priorities. Despite the achievements which both countries have made, there is still a great room for cooperation in many fields. In this regard, our office is concentrating more on promoting economic, commercial and cultural exchange between the two countries.
Addressing the event, Sung Jae Kim, DG, Korea Trade-Investment Promotion Agency (KOTRA), said that the KOTRA has always been at the forefront of innovation, acting as a platform for expanding business activities between companies at home and abroad. We've also been a pioneer in multilateral economic cooperation, discovering global partnerships and international investment opportunities.
Elaborating further Sung Jae Kim said, "We will concentrate our company-wide capabilities on digital transformation to contribute to the expansion of international trade and to enhance your trade experience with Korea. Secondly, we will drive cooperation in the global manufacturing sector and R&D. We consider Pakistan our potent partner and friend."
Ala Sohail, Executive Director of Best 1 Supermarket, said that the KOTRA and Best 1 are collaborating together to introduce Korean products in Pakistani market. Young generation in Pakistan appreciate Korean products, that are going to be launched through KOTRA at the Best 1. We are catering to the increasing demand of Pakistani youth for Korean products who are avid fans of Korean culture and K-pop.
Moreover, Best 1 offers a variety of imported and local products. These products are of high quality and at a reasonable price. Best 1 Supermarket strives to provide its customers with prime and amiable customer service along with a salubrious and aseptic environment – essentially offering the world in a cart.
[ad_2]

Source link