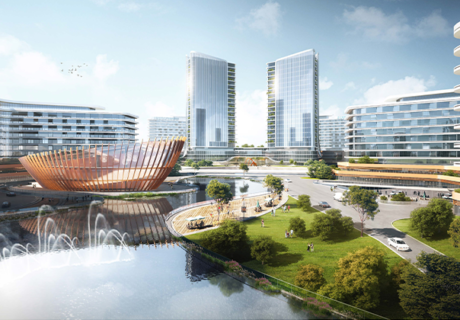 The new Shaoxing campus of Zhejiang Tumor Hospital, University of Chinese Academy of Sciences (Shaoxing, Zhejiang, China) is expected to be completed in 2025.
The 5 million square foot, 2500-bed cancer hospital will integrate clinical, research, and experimentation into a multidisciplinary, comprehensive large-scale medical technology platform, surgery center platform, medical transformation platform, and visitor center center platform. Each major will set up a simulation training classroom near the clinic to promote real-time training in tumor treatment, medical skills, physiotherapy and other methods.
The cancer center is designed by High dynamic range (San Francisco and Shanghai), will focus on providing privacy, comfort, warmth and hope for cancer patients. Since the hospital can be the "second home" for patients who endure long and exhausting treatment, the sub-waiting areas of the admission, discharge, examination and treatment areas are designed to be comfortable and warm. In the infusion area, the design will incorporate natural lighting while providing privacy and comfort for patients.
The exterior design will combine warm colors and materials, including wooden aluminum panels and glass, to integrate with the area while creating a warm environment.
Project details:
Facility Name: Shaoxing Campus of Zhejiang Cancer Hospital
Location Shaoxing, Zhejiang, China
Estimated completion date: 2025
Client: University of Chinese Academy of Sciences
Total construction area: 5 million square feet
Total construction cost: Not applicable
Cost/m²: Not applicable
Construction company: HDR