Welcome to Kevin Kelly's garden, where containers are used as garden art to emphasize planting.
I have been gardening in Harrisburg, Pennsylvania (District 6b) for more than 25 years. My garden is located in the suburbs, covering 3 acres. I am not surrounded by any amazing scenery, nor any borrowed scenery.Instead, my border is designed to contain Episode Filled with dense plants, usually paired with a container, which can be planted or left empty. I find that the eyes often look for the popularity of these colors or structures, and help us slow down and enjoy the vignettes presented. Here are some samples for you to enjoy.
I like this combination in the very dark part of the back frame.Two colors Hecera (Area 4-9) Combine Japanese Painted Fern (Lastrea niponicum Where. painted Area 3–8), silver variegated leaves Pneumocystis (Area 3-8) and a beautiful container.
This container is suitable for Wigla "My Monet" (Area 4-8), Rudbeckia (Coneflower Fuljida, Districts 4-9), and some Yearbook.
Crokosmia "Walburton Yellow" (zones 6-9) and Hecera "Caramel" (zones 4-8) is a perfect match for this container. Cedarwood Harrington "Duke Gardens" (zones 6-9) and loose Floret "Sunny" (zones 5-7) forms a good background.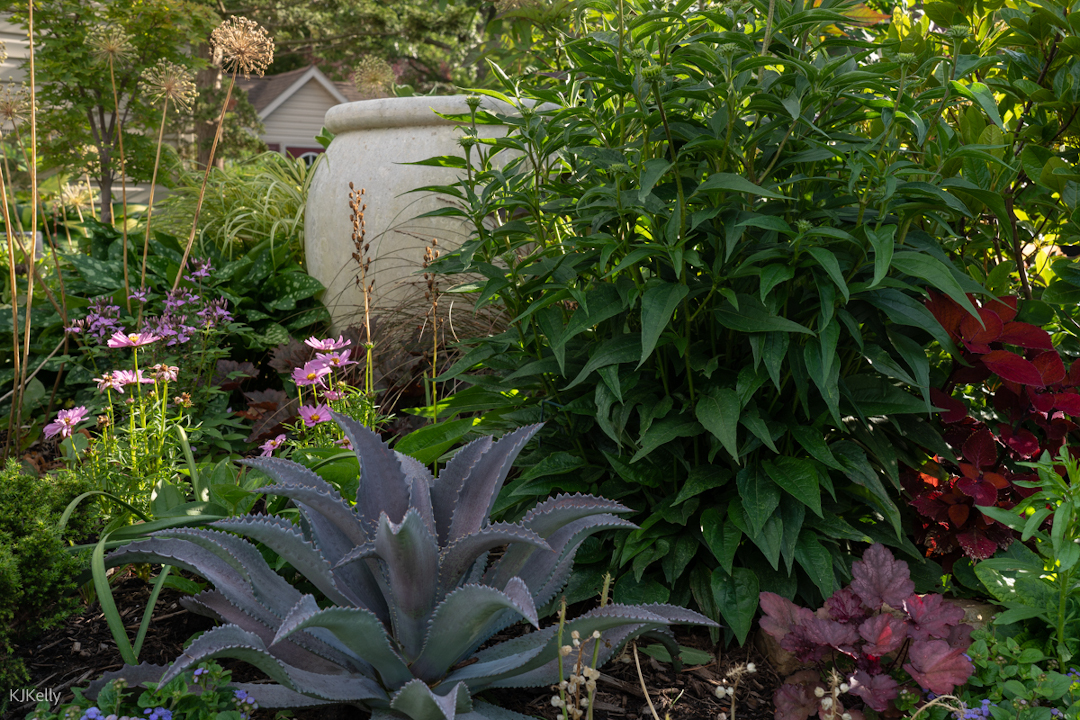 This early summer episode includes a mango (Agave Mixed, cold resistance varies from species to species).soon Echinacea (Zones 5-9) and the universe (universe Double feather fish, Annual) will become more prominent. The large container fixed this vignette.
Planting Thuja Westerners The "golden emeralds" in blue containers (zones 2-7) provide a higher height and accentuate smaller perennials.
Agave "Lavender Lady" (zones 8-10) stands proudly in the container on the pedestal.It is surrounded Dirvila river 'Kodiak Black' (zones 5-7), Itema Virginia (Zones 5-9), and Penstrom 'Husker Red' (area 3-8).
Calicapa dichotomy "Duet" (zones 5-8), Tuberose (Area 3–9) and Coneflower (3-7 districts or planted every year)
The bowl is surrounded by various succulents Gardenia 'Blue Danube' (every year), dinosaur kale (Kale 'Lacinato'), and Phlox "David" (zones 4-8)
Do you have a garden you want to share?
Do you have any photos to share? We would love to see your garden, the specific plant series you like, or the wonderful garden you have the opportunity to visit!
Submit and send 5-10 photos to [email protected] And some information about the plants in the photo and where the photo was taken. We would love to know where you are, how long you have been in gardening, the success you are proud of, the lessons you learned from it, your hope for the future, your favorite plants or interesting stories in your garden.
If you want to send photos to GPOD mailbox That's fine.
Do you have a cell phone?Tag your photo Facebook, Instagram Either Twitter With #FineGardening!
You don't have to be a professional garden photographer – check out our Garden photography skills!
Have you received GPOD via email? Register here.