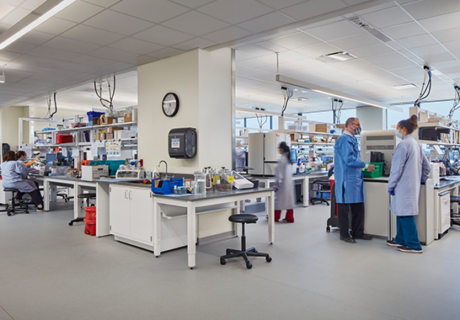 After the recent acquisition of two community hospitals, Loyola Medicine of Maywood, Illinois needed to integrate its laboratory services and centrally supply inventory in order to provide timely inventory control for the now larger healthcare system. The resulting 30,000 square foot renovation project brings together various laboratory facilities to enable equipment sharing and provide process automation to improve efficiency and accuracy.
this high efficiency (Chicago) The design team used the existing vacant floors of an emergency medical service building on the main campus of Loyola University Medical Center to relocate and integrate separate existing laboratory spaces. The expanded laboratory area also provides an opportunity for the system to acquire several pieces of new automated equipment that were previously unavailable to the laboratory and pathology team.
The architectural design method creates an open laboratory environment that provides sufficient daylight for all users in the laboratory. By removing partitions and obstacles from the space plan, the surrounding glass becomes a convenient facility for all users, not just those who work on the external benches.
The new laboratory is also located near the administrative space, helping to perform work with better safety while also providing on-site efficiency.
Project details:
Facility name: Loyola Medical Comprehensive Laboratory
Location: Maywood, Illinois
Completion date: May 2021
Owner: Loyola Medicine
Total construction area: 30,000 interior decoration
Total construction cost: US$7.9 million
Cost/sq. ft.: 263 USD/sq. ft.
Architect: HED
Interior design: HED
General Contractor: Leopardo Construction
Engineering: TLC Engineering Solution (MEP),