Today's photo is from Chris in northeastern Ohio. We have seen his garden before (Chris' Ohio Garden).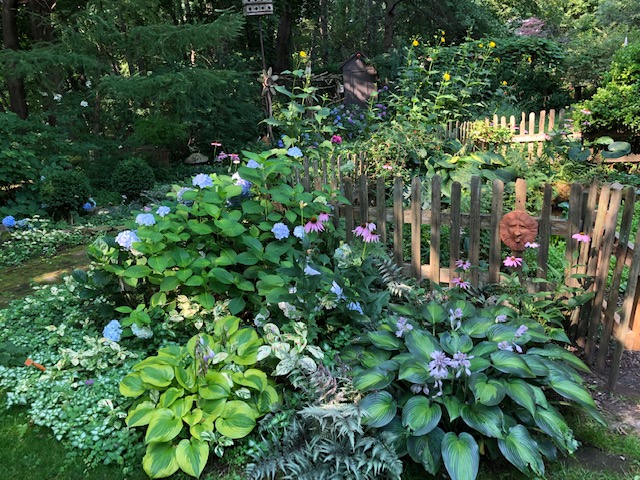 This and the next two photos are in the West Yard. I have two independent yards where I can grow vegetables; the west yard is a deep and wide space, and the east yard is long and narrow. This photo is behind the house, where there is a pond in the middle of the fenced area. I have "Endless Summer" Hydrangea (Hydrangea "Endless Summer", Zones 5-9) and Horstas (cough Hybrid vehicles, zones 3-8) and Cone flower (Echinacea, Area 4-9), the tall yellow flowers are Cups (Silphium perfoliatum, Zone 4-8). If you look back, you can see the old outbuildings of the property. There are trees behind all the gardens in this west yard.
The cabin was built in the 1830s and connected to the house. We acquired it in North Carolina in 1995.There are many "endless summer" hydrangeas and some day lilies (Hemerocallis Hybrid cars, zones 4-9) are behind it.
This bed in the west courtyard is one of the longest beds I have, but it is hidden, so you can only see it if you see it right away.A secret small alcove with an old stone trough with spiraea (Spiraea, Area 4-8) hang on it.The tree above is tricolor beech (Beech Silvatica 'Three colors', area 4-7).Some roses in front (Rosa Hybrid) and sheep's ears (Stachys Byzantium, Zone 4-8).If you look at the far right, you will see the red flowers of the Carolina Allspice Shrub (calyx Florida, Zone 4-9).
This is the first thing you see when you walk into the east courtyard under the pavilion. There is a bench and a walkway leading to it.The bush above the bench is winter berries (holly Verticillium, Area 3-9), so they give the illusion of a tree and have a very high Tan (Cotinus coggygria, Area 4–8) to the right. The walkway is a stone circle, and several grinding stones are placed everywhere.
This is an area that I have been transforming. It is part of the greenhouse bed. I put the stone circle in and made a fence gate, and this year I added fences on both sides of it. There is a table and chairs under the pavilion.
This door leads to the back of the garage, which is an old farmhouse. This area is new. This is an existing garden bed, which has been encircling the front greenhouse and down the old corn bed.I want to change it, so I added some stones and put in two standard brindle willows (willow integral 'Hakuro-nishiki', Zones 5-7), yellow-green Agave "Sun King" (Area 3-9) yellow-green Bushes and some hydrangeas.
This is in the big garden next to the greenhouse. This is a bishop's hat top, standing on an old railroad crossing pillar. This was given to me by my brother, and I have two stone pillars for me, so I put this crest on one of them. It is a very nice feature in the garden.
This is part vegetable garden It shows two 8-foot-high beds on each side of the pavilion, which are made from acacia branches. There are fences around the four outer gardens, and I put them away every fall.
Fenced area behind the vegetable garden
Last year I joined this triangle star design and added a topiary garden.I have a weeping spruce (Spruce fir 'Pendula', Zones 3–7) Already, so I solved it.I will trim the new bushes like this prune.
This is the middle of my west yard, a garden area that I installed in 2006. A circular cobblestone circle leads to a fenced area.Outside the fence is Japanese maple (Acer Palm, Areas 5-9), there is a long winding garden to the left of the fence. Every winter, I put two pots of rosemary on both sides of the door of the house. Inside the fence is a small pond and many herbs.
Do you have a garden you want to share?
Do you have any photos to share? We would love to see your garden, the specific plant series you like, or the wonderful garden you have the opportunity to visit!
Submit and send 5-10 photos to [email protected] And some information about the plants in the photo and where the photo was taken. We would love to know where you are, how long you have been in gardening, the success you are proud of, the lessons you learned from it, your hope for the future, your favorite plants or interesting stories in your garden.
If you want to send photos to GPOD mailbox That's fine.
Do you have a cell phone?Tag your photo Facebook, Instagram Either Twitter With #FineGardening!
You don't have to be a professional garden photographer – check out our Garden photography skills!
Have you received GPOD via email? Register here.