Jay Sifford is a regular contributor to GPOD. We visited his garden in Charlotte, North Carolina (Revisit Jay Gardens in North Carolina), today we are in his other garden in the mountains of western North Carolina.
Although the mountains in western North Carolina are now dry, the garden doesn't seem to mind.This Pollinator Also very happy. I took these updated photos, these photos are my septic tank turned into a stylized grass garden, with a midsummer color.
Echinacea Purpura 'Magnus Superior' (zones 4-9) and Liatris Spikes (Area 3-8) Bring similar colors but completely different shapes Texture To the garden.
'Tiki Torch' Echinacea (Echinacea Mixed, zones 5-9) are new to me.Here it shines in front of the "Black Panther" nine trees (Locust tree Gold finger Area 2–8) and "Blue Dune" Lymegrass (Lymus chinensis "Blue Sand Dunes", area 4-8).
This is a layered example, using Hydrangea Spike flower 'Phantom' (zones 3-8),'Karley Rose' Pennisetum (Pennisetum East 'Karley Rose', zones 5-8), Liatris spicata, 'Blue Dune' Lymegrass,'Bonnie Blue' and'The Limey' spruce (Spruce pungens, Area 2–7), and calamus Conifers "Karl Foster" (zones 5-9).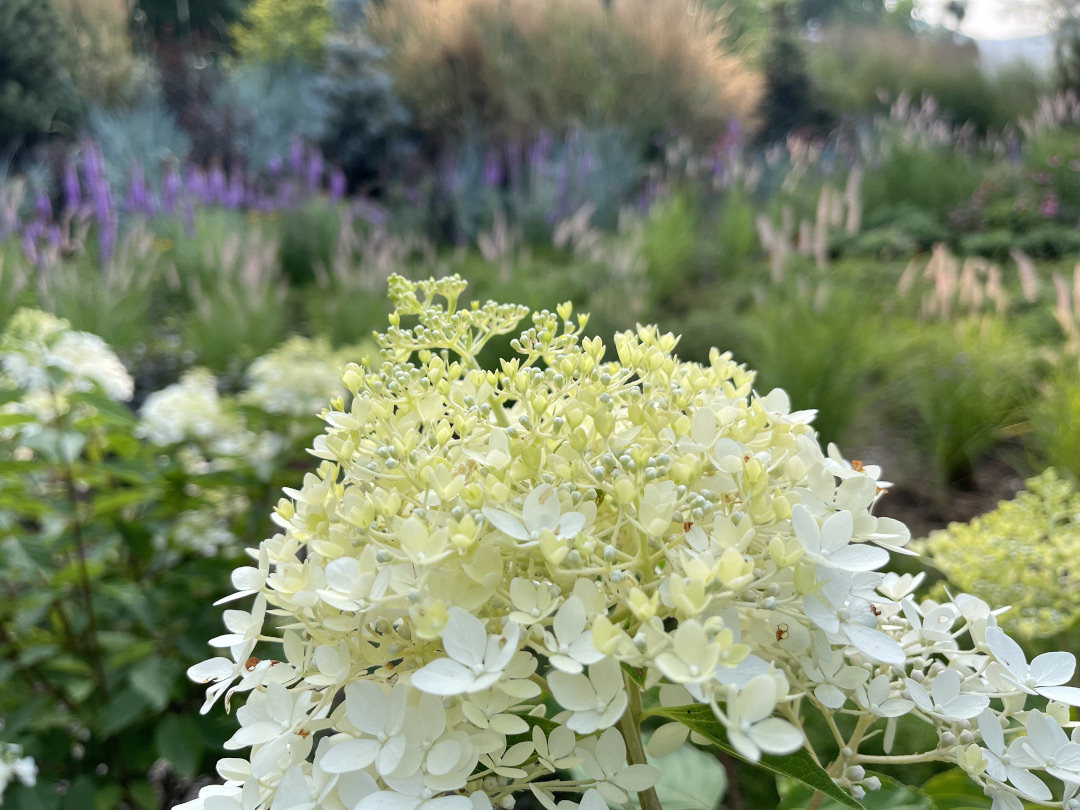 close up Hydrangea 'phantom'.My spring has become bolder Spike flower prune. I keep cutting them to less than 10 inches from the ground, like hard plums on rose bushes. The result is large flowers on very straight, strong stems.
The color gradient of this garden is better than I expected. here, "American Gold Rush" Coneflower (Rubber chrysanthemum The "American Gold Rush", zones 3-9) began to bloom. This variety should be fungus resistant. So far so good. It is the 2nd year in the garden.
calamus 'Carl Foster' Provide sensual gauze in the garden.
A wide view of the garden before late July
Tourmaline (Mountain Mint, Zone 4-8) Aggressive when happy, but it's real Pollinator Attractor. Its root system is very suitable for maintaining soil on slopes.
Do you have a garden you want to share?
Do you have any photos to share? We would love to see your garden, the specific plant series you like, or the wonderful garden you have the opportunity to visit!
Submit and send 5-10 photos to [email protected] And some information about the plants in the photo and where the photo was taken. We would love to know where you are, how long you have been in gardening, the success you are proud of, the lessons you learned from it, your hope for the future, your favorite plants or interesting stories in your garden.
If you want to send photos to GPOD mailbox That's fine.
Do you have a cell phone?Tag your photo Facebook, Instagram Either Twitter With #FineGardening!
You don't have to be a professional garden photographer – check out our Garden photography skills!
Have you received GPOD via email? Register here.